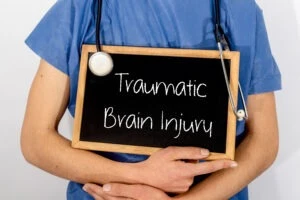 If you have suffered a traumatic brain injury due to an accident or other incident, it is important to consult an experienced East Lansing traumatic brain injury attorney to protect your rights and help ensure you receive the compensation you are entitled to.
A traumatic brain injury can be devastating, impacting your physical and mental health, your ability to work, and your overall quality of life. However, an East Lansing catastrophic injury lawyer at White Law can provide the legal support and guidance needed to navigate the complex process of seeking compensation for a traumatic brain injury.
How Do Severe Head Injuries Occur in East Lansing?
Traumatic brain injuries (TBI) can be caused by a variety of factors, including accidents and injuries. Some common causes of TBIs include the following:
Auto accidents

(car accidents, truck accidents, motorcycle accidents, pedestrian accidents)

Falls

Sports and recreation injuries

Assault

Medical malpractice
If you or a loved one has suffered a traumatic brain injury due to someone else's negligence or wrongdoing, it's important to seek legal guidance from an experienced East Lansing accident attorney. With the right legal team, you can ensure that your rights are protected and that you receive the compensation you deserve for your injuries.
Your Fight Is Our Fight
Brain Injuries Can Alter A Person's in East Lansing's Life
During a recent reporting year, the Centers for Disease Control and Prevention (CDC) reported that there were approximately 288,000 hospitalizations related to traumatic brain injuries across the country. These incidents can happen in a variety of ways, but the CDC says that unintentional falls and motor vehicle accidents were the most common causes of TBIs.
Some common long-term effects of brain injuries may include:
Chronic headaches

Seizures

Speech and language impairments

Mood changes

Depression

Anxiety

Difficulty with concentration and attention

Brain damage
These long-term effects can have a profound impact on the brain injury victim's ability to work, perform daily activities, and enjoy life. It can also affect their relationships with loved ones and their ability to maintain their independence. That is why it is important to consult with a traumatic brain injury lawyer in East Lansing, MI to ensure that you receive the appropriate compensation to cover the long-term effects of the injury.
We're not just lawyers. We're passionate advocates who will ensure that your voice is heard and your rights are protected.
Choose White Law PLLC For Your Brain Injury Case in East Lansing
When you or someone else has sustained a serious brain injury or even brain damages, you need an attorney with a track record of success handling these cases. White Law PLLC is ready to get to work.
We believe in building strong cases for our clients, and we will not hesitate to go all the way to trial if necessary to secure maximum compensation.

We utilize the newest technology to assist us in ensuring the best possible outcome for our cases. This includes staying connected both inside and outside the courtroom through laptops, tablets, cloud services, and more.

We take all East Lansing brain injury cases on a

contingency fee

basis. This means that our clients will pay no legal fees until after we secure the compensation they deserve.
We know how to get our clients the results they need in the toughest legal arenas.
Should You Hire a Personal Injury Lawyer After a Severe Head Injury?
If you or a loved one have suffered a traumatic brain injury, it is crucial to seek the assistance of a skilled traumatic brain injury attorney in East Lansing, MI. The legal process surrounding these cases can be complex, and having an experienced lawyer by your side can make a significant difference in the outcome of your case.
Knowledge of the Law
An East Lansing traumatic brain injury lawyer understands the laws and regulations related to these types of injuries. They have the knowledge and expertise to navigate the legal system and fight for your rights. They will ensure that you receive the compensation you deserve for medical expenses, lost wages, pain and suffering, and other damages.
Build a Strong Case
Additionally, a traumatic brain injury lawyer will investigate the cause of your injury and gather evidence to support your claim. They will work with medical professionals to accurately assess the extent of your injuries and determine the long-term impact on your life. This information is vital in building a strong case and maximizing your chances of success.
Negotiate on Your Behalf
Furthermore, a personal injury attorney will negotiate with insurance companies on your behalf. Insurance companies often try to minimize the amount they pay out in claims, but with a lawyer advocating for you, you can rest assured that your best interests are being protected.
You will always work directly with your attorney throughout your case.
How Much Compensation Is Available for East Lansing Brain Injury Claims?
If you or a loved one has suffered a traumatic brain injury in East Lansing, you may be wondering how much compensation you are entitled to. While every case is unique and the amount of compensation will depend on various factors, there are several types of damages that you may be able to recover.
At our law firm, we are regularly able to secure the following on behalf of our clients who have sustained these injuries:
All medical expenses

Lost income if a victim is unable to work

Lost future earnings or earning potential in cases of disability

Pain and suffering damages

Loss of enjoyment of life damages

Non-economic damages
Determining the amount of compensation available for a brain injury claim can be complex, and it is important to work with an experienced East Lansing traumatic brain accident lawyer who can help you navigate the legal process and ensure that you receive fair compensation for your injuries.
Our East Lansing Brain Injury Attorneys Are Here To Help
If you or a loved one have sustained a brain injury caused by the negligent actions of another person, an accident attorney at White Law PLLC is ready to assist you with your case. We will conduct a full investigation into the incident in order to secure compensation for your personal injury claim. Our attorneys take all types of personal injury cases in East Lansing.
When you need an East Lansing brain injury attorney, you can contact us for a free consultation of your case.
We're Experienced. We Care.
We Exceed Client Expectations.