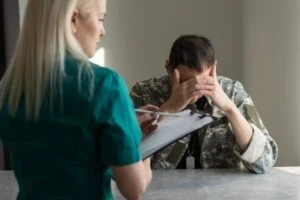 From August 1953 to December 1987, PCE (perchloroethylene) and several other harmful contaminants were present in the water at Camp Lejeune. The toxic substances found in the camp's water supply are known to cause several different cancers and severe conditions.
Estimates show that over one million troops, civilian employees, and military family members were exposed to the base camp's toxic water. If you were stationed at the camp during the time of contamination and have developed a qualifying illness, the team at White Law PLLC is here to help you file a Camp Lejeune claim.
How the Water at Camp Lejeune Was Contaminated
In recent years, investigators have discovered that a dry cleaning business located near the camp in the early 1950s was improperly releasing cleaning solvents, mainly PCE, into the soil. From there, the PCE entered the groundwater and contaminated the water supply at Camp Lejeune.
Investigators found that the amount of PCE present in the camp's water was over 40 times higher than the amount deemed safe for humans. While PCE has caused the most damage to troops, there are several other contaminants that service people were exposed to, including:
TCE (Trichloroethylene)

: This chemical, used for the maintenance of military equipment, was also found in the water at Camp Lejeune.

TCE

is known to cause several negative health outcomes, including heart-related birth defects.

Mercury

: This chemical is believed to have entered the water supply from water pressure meters located in a treatment plant stationed on the base camp. Mercury's health effects have been known for years and likely plague hundreds of thousands of troops and veterans to this day.

Vinyl chloride and benzene

: Experts believe these compounds leached into the camp's water system from various pieces of equipment, pipes, and infrastructure.
Your Fight Is Our Fight
Conditions Associated With the Toxins in Camp Lejeune's Water
Recent studies have shown that the toxins in Camp Lejeune's water are associated with an alarming number of cancers and severe conditions. According to the science, troops who were stationed at the base camp from the early 1950s to late 1980s have a high risk of developing the following cancers:
Breast cancer

Bladder cancer

Esophageal cancer

Kidney cancer

Leukemia

Lung cancer

Liver cancer

Multiple myeloma

Myelodysplastic syndrome

Non-Hodgkin's Lymphoma
In addition to the staggering amount of cancers that have been tied to the base camp's contamination, researchers have also linked a number of other conditions to the toxic exposure that so many unsuspecting marines have suffered. Such ailments include:
ALS

Birth Defects

Birth Injuries

Brain Injuries

Cardiac Defect

Fatty Liver Disease

Hepatic Steatosis

Infertility

Miscarriage

Neurobehavioral Effects

Parkinson's Disease

Renal Toxicity

Scleroderma
If you lived at Camp Lejeune when its water was contaminated and have developed one of the cancers or conditions listed above, you have the right to take legal action. Under new legislation, you may qualify for benefits that have been denied to the majority of the affected population for years.
New Legislation Allows Troops Affected by the Water at Camp Lejeune to Take Action
In the past, benefits made available through the VA and the Honoring America's Veterans and Caring for Camp Lejeune Families Act were limited. Legal loopholes also made it nearly impossible for most affected marines to obtain benefits.
In an effort to make up for subpar reparations, President Biden signed the Camp Lejeune Justice Act in August of 2022. The new act has closed many of the loopholes that prevented troops just like you from pursuing the compensation they deserve.
Now, those affected by the contaminated water at Camp Lejeune are able to seek compensation via a personal injury claim. The new act also allows family members of deceased marines to file a wrongful death claim.
We understand that you may be going through a difficult situation and we are ready to help however we can.
Compensation Available to Camp Lejeune Toxic Water Victims
The compensation you receive from a Camp Lejeune claim will help you cover expenses related to your illness and provide you with the financial support you need to cope with your current circumstances. The damages you may receive include:
Medical expenses

Lost income

Reduced earning capacity

Pain and suffering

Emotional distress

Disability
If you are pursuing compensation for the loss of a family member who served at the base camp, the damages you receive may differ from those listed above. A wrongful death claim may yield the following damages:
Medical bills incurred prior to your family member's death

Loss of income

Loss of society and companionship

Emotional suffering

Funeral costs
Please note that individuals who have received health and disability benefits for a Camp Lejeune-related injury in the past may receive reduced compensation from a personal injury or wrongful death claim. The money you receive will likely be offset in proportion to the damages you've already been awarded.
You will always work directly with your attorney throughout your case.
Who Is Eligible to File a Camp Lejeune Injury Claim?
If you worked or lived at the Camp Lejeune military base for 30 days or more between August 1, 1953, and December 31, 1987, you may be eligible to file a claim. In addition to proving that you were present during the base camp's water contamination crisis, you'll also have to provide medical documentation that shows you've been diagnosed with a qualifying illness.
Information on how to obtain your military records can be found on the Department of Veterans Affairs website. We recommend that you obtain your military personnel and medical records ASAP, so your attorney has the proof they need to back up your claim.
Our Firm Will Fight for the Justice You Deserve
If you're seeking compensation for an injury caused by the contaminated water at Camp Lejeune, you must file a claim within two years of the passage of the Camp Lejeune justice act or the date you discovered your injury. Failure to adhere to the federal filing deadline will bar you from receiving the compensation you deserve.
To ensure that your claim is filed in a timely manner, contact White Law PLLC today. Our team of dedicated attorneys will advise you on your rights, construct a strong claim on your behalf, and fight for the compensation you need to manage your injury.
We're Experienced. We Care.
We Exceed Client Expectations.