Serving Lansing, Okemos, Ingham County, Michigan & the U.S.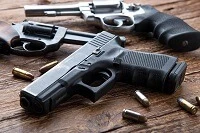 In Michigan, it is illegal for people to possess, use, purchase, or sell certain types of weapons. While the Second Amendment does provide individuals with the right to bear arms, every state has its own set of laws regarding the ownership and possession of firearms and other weapons. Depending on the circumstances, penalties for weapons offenses can include significant jail time and steep fines.
If you are being accused of a weapons-related crime, contact White Law PLLC. We understand that the laws can be confusing and you may not even be aware that you have violated a law. Our Okemos weapon charges lawyers have experience protecting clients and helping them navigate the intricate legal system. We can also defend clients who are being accused of committing a crime involving weapons.
We can defend a wide range of weapons charges, including those involving:
Carrying concealed weapons without a permit
Carrying under the influence
Carrying a concealed weapon such as a dagger, stiletto, prohibited stabbing instrument or another dangerous weapon
Felon in possession
Unlawful discharge
Possession of explosives
Unlawful manufacturing, sale, or distribution of firearms
Your Fight Is Our Fight
Dedicated Defense for Weapons Charges Anywhere in Michigan
Always know your options and your rights if you have been charged or accused of a weapons offense. Our team works hard to push for a dismissal when possible and to minimize the effects on your future. As seasoned trial lawyers and skilled Okemos weapon charges attorneys, we are equipped to take your case all the way to a trial to protect your interests.
We're Experienced. We Care.
We Exceed Client Expectations.