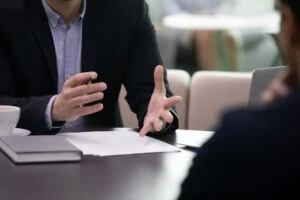 A weapons charge in Michigan can lead to serious legal consequences, including jail time. A Grand Rapids weapons charge attorney will help you understand how specific laws impact your case and review your legal options.
At White Law PLLC, we understand how a weapons charge can change your life and want to protect your future. Our criminal defense lawyers in Grand Rapids, MI, will protect your rights throughout the legal proceedings. Seek legal counsel and start preparing a strong defense.
Why Seek Legal Representation for a Weapons Charge?
Being convicted of a weapon offense can greatly impact your future. Having legal representation may mitigate the potential long-term consequences of your charges. A criminal defense attorney experienced in firearm charges will provide invaluable guidance throughout the legal process.
It's best to seek legal representation after you have learned of your charges as soon as possible. Dealing with the prosecutors and police officers alone would put you in a vulnerable position and jeopardize your defense case. Without professional legal guidance, you risk saying something discriminatory, and the prosecution will not hesitate to use this against you.
Seeking legal counsel is not an admission of guilt but a proactive step to safeguard your interests. Your attorney will navigate the complexities of the legal system on your behalf, increasing the likelihood of a favorable resolution.
Your Fight Is Our Fight
Common Weapons Charges in Michigan
Like other states, Michigan has laws in place to regulate and control the possession, sale, and use of weapons, aiming to ensure public safety and prevent unlawful activities. A weapons charge attorney in Grand Rapids, MI, will help you understand how the state's gun laws apply to your case.
Common weapons charges in Michigan include:
Illegal possession of a firearm:

In Michigan, it is unlawful to possess certain types of firearms, ammunition, or weapons without the necessary permits or licenses.

Carrying a concealed weapon without a permit:

It is a felony to carry on your person or in your vehicle a

concealed weapon without a permit

.

Possessing a firearm as a felon:

In Michigan, individuals with previous felony convictions generally cannot own or possess firearms unless they meet specific conditions to restore their rights.

Possession of a firearm by a person under 18 without adult supervision:

With certain exceptions, an

individual under 18

can possess a firearm in public only under the strict supervision of someone 18 or older.
Your attorney will provide you with the necessary information to navigate the complexities of the legal system. They will also help you understand the strengths and weaknesses of your case, outlining potential defense strategies.
We're not just lawyers. We're passionate advocates who will ensure that your voice is heard and your rights are protected.
Penalties You May Face After Conviction
The severity of the penalties depends on factors such as the type of weapon involved, the intent behind its use, and prior criminal history. An attorney will help you understand the potential severity of the legal consequences you may face and negotiate on your behalf.
They will engage with prosecutors to seek the best possible outcome for your case, including reduced charges, lesser penalties, or alternative sentencing options.
If convicted of a weapons charge, you may face:
Prison time

Loss of firearms

Fines and court costs

Suspension of professional licenses

Permanent criminal record

Changes to your immigration status (if you are not a U.S. citizen)
For example, being convicted of possessing a concealed weapon without a license outside your property is considered a felony offense in Michigan. Possible punishments include a fine of up to $2,500, felony probation, and time in prison of up to five years.
We know how to get our clients the results they need in the toughest legal arenas.
Building a Strong Defense Strategy
A Grand Rapids weapons charge lawyer will help create a tailored defense strategy to protect your future. At White Law PLLC, we understand that each case is unique, so we spend time familiarizing ourselves with each client's unique circumstances.
Your defense attorney will:
Thoroughly investigate the case:

Conduct a comprehensive examination of the facts, evidence, witness statements, and any potential legal issues related to the weapons charge.

Investigate constitutional violations and procedural errors:

Look for any violations of your constitutional rights, such as unlawful search and seizure or improper handling of evidence, which can be used to challenge the admissibility of evidence against you.

Examine witness credibility and testimonies:

Scrutinize the credibility and reliability of witnesses, assessing inconsistencies, biases, or motives that may weaken their testimonies.

Appeal to expert witnesses and forensic analysis:

Evaluate the need for expert witnesses or

forensic analysis

to present scientific evidence or professional opinions that support your defense.

Build a strong narrative:

Develop a compelling narrative that challenges the prosecution's case and presents a clear and persuasive account of your innocence or mitigating circumstances.
From the initial consultation, a skilled defense attorney will take the time to listen to your side of the story. They will offer you personalized guidance and advice, explaining the potential legal consequences you may face and outlining the available defense strategies.
You will always work directly with your attorney throughout your case.
How Our Legal Team Can Help With Your Weapons Charge Defense
Unlike large law firms, we can devote our full attention and resources to every case. Our lower caseload allows us time to address all your case-related concerns and questions. We want to make sure that you have all the legal information needed to make informed decisions about your future.
We also foster a collaborative and close-knit work environment. Our attorneys frequently work closely with one another, combining their knowledge and experience to develop comprehensive strategies for our clients. This collaboration allows for broader perspectives and creative problem-solving, enhancing the quality of legal representation.
Call a Weapons Charge Attorney in Grand Rapids, MI
Whether you are charged with illegal possession or a more serious offense, you should seek legal representation to protect your rights. A criminal defense lawyer has the knowledge and experience necessary to navigate the complexities of the legal system and protect your rights.
White Law PLLC provides personalized attention, thoroughly analyzes the details of your case, and develops a strong defense strategy tailored to your specific circumstances. Call us today to discuss your case with a weapons charge lawyer in Grand Rapids, MI.
We're Experienced. We Care.
We Exceed Client Expectations.