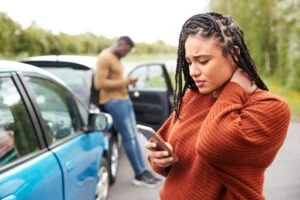 Sustaining an injury in a car accident can be devastating. Not only do car accident injuries cause pain and suffering, but they can also lead to tremendous medical and out-of-pocket expenses you have to pay.
Our law firm's car accident lawyers in Grand Rapids, MI, can help you determine if you have a case, and if you do, we'll fight for you to receive compensation. We understand the urgency and severity of your injuries, so when you get in touch with us, we'll be ready to take action and start the legal process.
Essential Steps You Should Take After a Car Accident in Michigan
If you're involved in a car accident in Grand Rapids, you should do a few things to protect yourself and your interests. We recommend to:
Ensure everyone involved in the accident is safe, and call 911 if anyone is injured.
Exchange insurance and contact information with the other drivers involved in the accident.
Take photos of the crash scene, including any damage to your vehicle and surrounding property.
After the accident, you should report the incident to your insurance company immediately. They will likely ask for a copy of the police report and any photos or videos of the damage. You should also seek medical attention, even if you feel fine, as some injuries may not immediately appear. Keep track of all medical bills and expenses related to the accident.
Finally, you should contact a Grand Rapids car accident lawyer. Car accident lawyers from the area can help you understand the relevancy of Michigan laws and guide you through legal actions.
Your Fight Is Our Fight
Car Accidents are Not Uncommon in Grand Rapids
Data from the Michigan Traffic Crash Reporting System paints a grim picture of car accidents nationwide. According to 2021 traffic crash data, we can see that there were more than 312,000 total traffic collisions that caused 974 fatalities and more than 75,000 injuries across the state.
Kent County made up a particularly large portion of the total crashes and injuries reported that year with about 20,100 crashes and 5,300 injuries.
The top cause of accidents in Kent County in 2021 was deer collisions, with 1,810 deer-involved crashes. In this type of accident, officers must report if a deer was involved in the accident and if the animal may have been a secondary cause. Other leading causes of crashes included distracted driving, motorcycle-involved, and truck-involved crashes.
We know how to get our clients the results they need in the toughest legal arenas.
Common Injuries in Michigan Car Collisions
While most car crashes result in only minor injuries, this is not always true. We regularly help clients who have sustained the following catastrophic injuries and require significant medical assistance:
Internal organ damage or internal bleeding
Traumatic brain injuries
Spinal cord injuries
Broken or dislocated bones
Severe lacerations
Crush injuries
Whiplash or other neck and back injuries
Concussions
Unfortunately, these collisions regularly occur due to the negligence of other drivers. It is not uncommon for our car accident lawyer in Grand Rapids to help clients injured because another driver was distracted or impaired behind the wheel or otherwise failed to follow traffic laws.
We understand that you may be going through a difficult situation and we are ready to help however we can.
How Much Time Do You Have to File a Personal Injury Claim After a Michigan Accident?
Michigan's statute of limitations gives you three years from the crash date to file a personal injury claim in Michigan against the at-fault parties. To be eligible for fair compensation, you must file within the deadline. If you don't, you won't be able to recover any compensation, and you'll have to pay for your crash-related losses out-of-pocket.
A personal injury lawyer from our team can help you abide by the deadlines to ensure you file on time. We can also determine if the collision details make you eligible for a longer filing deadline.
Once we know exactly how long you have, we'll start compiling evidence to support your claim and prove that the negligent driver and other parties are at fault for your injuries. Then, when we go to the insurance company, we'll present your claim and evidence.
You will always work directly with your attorney throughout your case.
What Kind of Compensation is Available After a Car Accident in Grand Rapids?
Victims of car crashes in and around the Grand Rapids area may be entitled to various types of compensation for their claims. Under Michigan's "no-fault" insurance system, our car accident lawyers will make sure that you receive coverage for the following economic and non-economic damages:
Medical expenses related to the crash, such as surgeries, rehabilitation expenses, and medications
Property damage
Emotional distress
Loss of enjoyment of life
Wage loss
Pain and suffering
Mental anguish
If our Grand Rapids car accident lawyer discovers the person or negligent parties responsible for your pain hurt you intentionally, you could be eligible for punitive damages. Punitive damages punish the defendant and discourage them from repeating the negligent actions.
Why Should You Choose Our Law Firm to Help With Your Case?
After sustaining a severe car crash injury in Michigan, you should seek assistance from an attorney you can trust personally and professionally. Our team in Michigan is proud to say:
Our team has 60 years of combined legal experience, and when you work with us by your side, we can take on aggressive insurance carriers on your behalf.
We take the time to get to know every client personally so we can tailor our solutions to meet their needs and goals.
We take Grand Rapids car collision cases on a contingency fee basis, which means you don't pay upfront or out-of-pocket costs for your case. You'll only owe legal fees after we secure the compensation you need.
If you have any questions about the legal process or your claim, our legal team will be happy to answer them quickly and in depth.
How Will An Attorney Benefit Your Grand Rapids Car Crash Case?
A Grand Rapids car accident attorney in will provide invaluable assistance for these cases. An attorney will be able to:
Obtain all evidence necessary to prove liability, such as video or photo surveillance, eyewitness statements, police reports, and background checks.
Work with trusted medical and economic experts to properly calculate a client's total losses.
Handle all negotiations on behalf of the client to obtain maximum compensation.
Our personal injury attorneys will ensure we do everything we can to help you recover compensation for your losses. We'll be dedicated to your case and help you with several additional legal tasks.
Contact Us to Start Working With a Grand Rapids Car Accident Lawyer
Do not hesitate to seek assistance if you or somebody you love has been injured due to another driver's negligence. At White Law PLLC, we investigate your case and stand up to aggressive insurance carriers. A car accident attorney in Grand Rapids, MI, can answer your questions and help determine if you have a valid auto accident claim.
Call us or fill out the contact form on our website to schedule an initial consultation for free.
We're Experienced. We Care.
We Exceed Client Expectations.