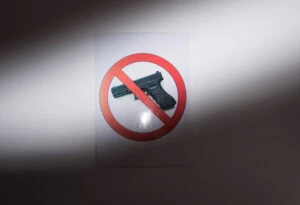 In the state of Michigan, the consequences of illegally possessing a firearm are serious. It is important to understand the laws surrounding firearm possession in the state and be aware of the potential penalties that may be incurred if found violating these laws.
Here, we will discuss the illegal possession of firearms in Michigan and provide an overview of the possible penalties associated with it. However, it's important to note that just because you've been charged doesn't mean you're a criminal. Don't hesitate to contact our Michigan criminal defense lawyers at White Law PLLC now for legal representation.
Understanding Michigan's Firearm Possession Laws
In Michigan, firearm possession is governed by a complex set of laws that include both state and federal regulations. Understanding the legalities of firearms possession is essential to avoid facing criminal charges. Michigan law requires anyone possessing a firearm to have a valid license, and a background check must be completed before the license is issued.
There are several restrictions on who can possess firearms in Michigan. Individuals under the age of 18 are not allowed to possess firearms except in certain circumstances, such as hunting or when supervised by a licensed adult. People with felony convictions, those who have been deemed mentally ill, and individuals with a history of domestic violence are also barred from possessing firearms.
It is essential to understand that possessing an illegal firearm is a serious offense in Michigan, and you could face significant criminal penalties, including jail time and hefty fines. Even if you have a valid firearm license, it is essential to follow the state's strict rules and regulations.
Your Fight Is Our Fight
Types of Illegal Firearm Possession in Michigan
Illegal firearm possession in Michigan refers to the possession of a firearm by someone who is not legally allowed to own one. Michigan has different types of illegal firearm possession, each with its own set of penalties.
No Valid License
The first type is possessing a firearm without a valid license. Under Michigan law, you must have a valid concealed pistol license (CPL) or a license to purchase a handgun (LPH) to own a handgun. Without one of these licenses, you can face criminal charges for illegal firearm possession.
Not Legally Allowed to Possess a Firearm
The second type is the possession of a firearm by someone who is not legally allowed to possess one. This includes individuals who have been convicted of a felony, individuals with certain mental health conditions, and minors.
Carrying a Firearm in a Prohibited Location
Another type of illegal firearm possession is carrying a firearm in a prohibited location. This includes schools, places of worship, and certain government buildings.
Illegally Modified Firearms
Lastly, possession of a firearm that has been modified illegally is also considered illegal. This includes firearms that have had their serial numbers removed or firearms that have been modified to be fully automatic.
We're not just lawyers. We're passionate advocates who will ensure that your voice is heard and your rights are protected.
Michigan Penalty for Illegal Possession of a Firearm
Unlawful possession of firearms in Michigan is a serious offense that carries significant legal penalties. The severity of these penalties depends on the circumstances surrounding the possession and the offender's criminal history.
A person found guilty of possessing a firearm without a valid license in Michigan faces up to five years in prison, fines of up to $2,500, or both. If the offender has a prior conviction for a felony or violent crime, the penalty for illegal firearm possession is significantly harsher.
Under Michigan law, possessing a firearm while committing or attempting to commit a crime carries steeper penalties. This offense is a felony that can result in lengthy prison sentences and steeper fines.
Work With a Criminal Defense Attorney
It is worth noting that the penalties for illegal firearm possession can vary depending on the circumstances of the case. Therefore, working with an experienced criminal defense attorney who can examine the case's specifics and build a strong defense to protect your rights is essential.
We understand that you may be going through a difficult situation and we are ready to help however we can.
Common Criminal Defense Strategies for Illegal Firearm Possession
When facing charges for unlawful firearm possession in Michigan, several defense strategies can be employed to minimize the impact of the charges.
Obtained through legal means:

Your White Law PLLC attorney may decide to argue that the firearm was obtained through legal means and that the defendant had a valid license or permit to possess it.

The defendant was unaware of illegal possession:

Another strategy is to argue that the defendant was not aware that they were in possession of an illegal firearm. This may occur in cases where the defendant was unaware of certain firearm regulations or where another individual left the firearm in their possession without their knowledge.

Challenging the search and seizure:

A third defense strategy is to challenge the search and seizure of the firearm by law enforcement officers. If the officers did not have a valid warrant or probable cause to conduct a search, the evidence obtained during the search may be suppressed in court.
Overall, it is important to work with an experienced criminal defense attorney who can help identify the best defense strategy for your specific case and work towards a favorable outcome.
You will always work directly with your attorney throughout your case.
Hire a Criminal Defense Attorney After Illegal Possession of a Firearm in Michigan
If you are unsure about the legality of owning a firearm, consult a White Law PLLC criminal defense attorney who can guide you and help you avoid trouble with the law. Remember, having an attorney by your side can greatly impact the outcome of your case and protect your rights.
If you are facing charges for unlawful firearm possession in Michigan, do not hesitate to seek legal representation to defend your rights and fight for the best possible outcome. Contact us now for help with your criminal defense case in Michigan.
We're Experienced. We Care.
We Exceed Client Expectations.