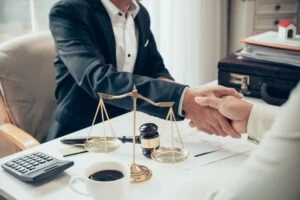 Michigan business law attorneys step in to help you as you deal with legal issues like contracts, business formation, intellectual property issues, and tax planning. A law firm in Michigan can help you plan for your business, prepare for legal issues, and resolve conflicts when they arise.
Our team at White Law PLLC can provide you with experienced legal assistance backed by cutting-edge technology. We put our clients first, helping you navigate the complicated world of business law.
Find out more about how we can help by calling us or filling out our online contact form.
What General Services do Business Law Attorneys Offer in Michigan?
Our team can offer legal guidance to new and established businesses throughout Michigan. In addition, we can step in to assist if you operate a limited liability company (LLC), professional liability company, corporation, partnership, or non-profit organization.
We provide several specialized services that can assist in the day-to-day operations of your business. For example, you can contact us when you want to:
Acquire another business
Merger your company with another business
Set up a franchise agreement
Perform a real estate transaction
Handle business negotiations or success planning
Review or draft notes or loan documents
We can also help with issues related to intellectual property rights, including copyrights and trademarks. You can also contact us for help setting up contracts for new employees. We review your current employment agreements to ensure they're legally sound.
Working with business law attorneys in Michigan for general purposes can help you minimize the odds of facing legal challenges down the road.
Your Fight Is Our Fight
Can a Business Law Attorney Help with Litigation?
Michigan business law attorneys often focus on helping you avoid legal conflicts. Making sure you operate your business in accordance with all legal codes in Michigan can help keep things running smoothly.
However, we understand that you may face formidable legal challenges while operating your business. In this situation, you can reach out to a business law attorney in Michigan.
We provide legal guidance if someone brings a claim against you or if you need to file a civil suit for issues like breaking a contract or the theft of intellectual property. We can help you work through:
Business arbitration
Negotiation with other business lawyers
Litigation in the court system
Reach out to our legal team today to get support in your corner.
We know how to get our clients the results they need in the toughest legal arenas.
Why Choose Us for Help with Your Business Law Needs?
When it comes to selecting a business law attorney in Michigan, our team offers many benefits to your company. We focus on our client's needs, focusing our services on what concerns you. We adjust our services to ensure you get the care you want.
We make use of advanced communications technology to help our business law clients. For example, we keep in contact with you and can share documents through the cloud. Our use of cloud computing also allows us to cut down on paper waste.
Our team also uses our years of experience to handle business law cases in Michigan. Reach out to us for a free consultation to find out what services would address the needs of your business.
We know how to get our clients the results they need in the toughest legal arenas.
Do Business Law Attorneys Help During Business Formation?
Michigan business law attorneys can step in to help you from the time you begin planning your company. We guide prospective business owners as they decide what kind of business they want to open.
You may decide to operate a sole proprietorship, LLC, partnership, or even a corporation. Regardless of the type of business you choose to set up, we can help ensure you:
File all appropriate paperwork to start your business
Understand tax laws in Michigan
Acquire the correct permits
Allow a business lawyer to walk you through the steps to setting up and operating your business in Michigan.
You will always work directly with your attorney throughout your case.
When do Businesses Need a Lawyer in Michigan?
Business law attorneys in Michigan can handle all the legal needs of your small, medium, or large business. Lawyers provide legal protection, so many companies choose to work with them to prevent potential problems before they develop.
Lawyers step in to:
Draft contracts
Review the ins and outs of a merger
Discuss all your financing options
Help you understand venture capital
Issues related to corporate law
Working with a business lawyer in Michigan can help you save time, as well. You can focus on running your business while we handle your legal needs.
Many business owners also find they save money when working with a business attorney. In addition, your lawyer can protect you from legal issues, helping you avoid fines or fees from potential conflicts.
When you reach out to us for a risk-free consultation, we're ready to discuss further the benefits of working with a business law attorney in Michigan.
How Much do Michigan Business Lawyers Charge?
Business lawyers serving the Michigan area charge various rates for their services. Drawing up a contract or helping with setting up a business may have a flat rate cost. In other situations, business lawyers work on a per-hour basis.
We believe in keeping our prices clear and easy to understand. When you contact us, we'll discuss the charges to handle your needs in a way that works for your business.
Speak to Our Team for Help with Business Law in Michigan
Our team at White Law PLLC can step in when you need help from Michigan business law attorneys. We're ready to serve new and established companies of any size throughout Michigan. In addition, our team offers you personalized care to meet the needs of your business.
Discuss the services we offer in greater detail by calling us or completing our online contact form.
We're Experienced. We Care.
We Exceed Client Expectations.