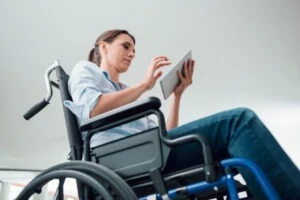 If you were diagnosed with paralysis after surviving an accident, you might feel discouraged from taking legal action against the at-fault party. Dealing with the physical and emotional aftermath can be overwhelming. However, this shouldn't stop you from recovering damages. A Michigan paralysis injury attorney will offer compassionate legal support with your case.
At White Law PLLC, we are dedicated to protecting the rights of injury victims. During our practice, we served more than 30K clients and recovered over $1 billion on their behalf. Let us get you the compensation you need to rebuild your life. Our catastrophic injury lawyers in Michigan will review your legal options. Call us today to schedule a free case evaluation.
What Types of Accidents Can Cause Paralysis?
Paralysis can be caused by various injuries affecting the central nervous system, particularly the spinal cord and brain. When the spinal cord is damaged, it disrupts the transmission of signals between the brain and the rest of the body, leading to paralysis. Severe head injuries can also result in paralysis if they impact the brain's motor centers responsible for controlling movement.
Motor vehicle crashes, slip and falls, and workplace accidents are the leading types of accidents that lead to catastrophic injuries. As Michigan personal injury lawyers, we have witnessed the devastating consequences of these accidents.
Common types of accidents that lead to paralysis:
Regardless of the circumstances under which you were injured, seek immediate legal counsel, because you may have a valid personal injury case. As your paralysis lawyers in Michigan, we will investigate the circumstances of the accident and advise you on how to move forward with your case.
Your Fight Is Our Fight
We Can Help You Face the Unique Challenges of Michigan Paralysis Cases
Paralysis injury claims differ from other personal injury cases due to their profound impact on the individual's life. The loss of mobility and sensation associated with the condition often requires significant long-term care, rehabilitation, and adaptive equipment. Unlike other personal injury cases where the injuries may improve over time, paralysis is often permanent.
While Law PLLC lawyers help people living with paralysis by offering comprehensive legal services:
Gathering evidence: Your lawyer will gather and analyze crucial evidence to build a strong case. We work with medical professionals, accident reconstruction experts, and other specialists to establish liability and prove the extent of your injuries.
Negotiating with insurance companies: We have experience dealing with insurance companies and their tactics to minimize settlements. Your Michigan paralysis attorney advocates on behalf of their clients, engaging in negotiations to ensure fair compensation for your physical, emotional, and financial losses caused by the accident.
Trial representation: If a fair settlement cannot be reached, our legal team is prepared to take the case to trial. We will present a compelling case before a judge and jury, utilizing our courtroom skills to seek the maximum compensation.
Emotional support: In addition to the legal aspects, we offer emotional support and guidance throughout the legal process. We understand the challenges individuals and their families face in coping with the consequences of paralysis.
We know how to get our clients the results they need in the toughest legal arenas.
Recoverable Damages After a Paralysis Injury
As a paralysis injury victim, you have a right to claim damages from the at-fault party. Our lawyers will investigate the accident and determine liability.
Paralysis injury cases require a comprehensive evaluation of the long-term economic impact. We work closely with medical and financial experts to calculate the present and future costs associated with your condition.
Compensatory Damages
If someone else's negligence caused your injury, you will likely receive compensatory damages. These reimburse you for any accident-related expenses. There are two main categories, economic and non-economic damages, that deal with different types of losses.
Economic damages are tangible losses you can calculate using receipts and bills. These are relatively easy to prove through supporting documents. We may also rely on witness testimonies to strengthen your claim.
You could claim the following economic damages in your paralysis injury case:
Medical expenses
The cost of future medical care
The cost of home modifications for accessibility
Lost wages
Loss of earning potential
Being diagnosed with paralysis also has a strong psychological impact. Non-economic damages address intangible losses like diminished quality of life. Paralysis drastically alters an individual's ability to engage in daily activities, pursue hobbies, and enjoy the full range of experiences they once had.
Non-economic damages for people with paralysis include:
Pain and suffering
Loss of enjoyment of life
Emotional distress
Diminished quality of life
Loss of consortium
Punitive Damages
In Michigan, punitive damages are awarded in exceptional cases to punish the defendant for their egregious behavior and to deter others from engaging in similar misconduct. To be eligible for these damages, you must demonstrate by clear and convincing evidence that the defendant's conduct was willful, wanton, or malicious.
Moreover, punitive damages are subject to specific legal limitations. The amount of punitive damages awarded in Michigan is capped at twice the amount of compensatory damages or $200,000; whichever amount is greater.
We know how to get our clients the results they need in the toughest legal arenas.
File a Personal Injury Claim Under Michigan's Statute of Limitations
The statute of limitations for personal injury cases in Michigan is generally three years from the accident date. However, there are exceptions and variations depending on the specific circumstances of the case. Consult a Michigan paralysis lawyer to learn the deadline that applies to your situation.
Failing to file within the prescribed timeframe may result in the dismissal of your case and losing your opportunity to receive compensation.
You will always work directly with your attorney throughout your case.
Call a Paralysis Injury Lawyer in Michigan for Legal Guidance
Being diagnosed with paralysis can change your and your family's life forever. Knowing that the injury could have been prevented if not for another person's negligent actions magnifies the sense of injustice and frustration. A paralysis attorney in Michigan will help you take legal action.
At White Law PLLC, we understand the far-reaching implications of a catastrophic injury. We will help you build a strong case against the responsible party and help you fight for justice. Contact us today to discuss your legal options.
We're Experienced. We Care.
We Exceed Client Expectations.