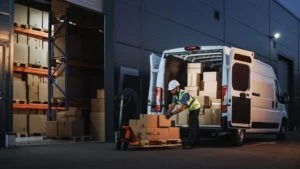 Delivery truck drivers have just as much of a duty of care to drive safely as other drivers do. Unfortunately, many are negligent drivers who disregard the public's safety.
At White Law PLLC, we've recovered over $1 billion across the 30,000 clients we've served. Our team of Michigan truck accident lawyers is ready to use all our resources to get you the compensation you qualify for.
Common Causes of Delivery Truck Accidents in Michigan
Understanding why delivery truck accidents happen can help prevent them in the future and seek legal action. These incidents can have far-reaching consequences for those involved, regardless if it's a UPS delivery truck or an Amazon driver. Let's delve into the common causes behind delivery truck accidents:
Speeding and reckless driving: The pressure to meet tight delivery schedules can sometimes push drivers to exceed speed limits and engage in aggressive driving. It's important to note that this can significantly raise the risk of accidents.
Vehicle maintenance issues: Occasionally, vehicle maintenance may be overlooked, leading to brake problems, tire issues, and faulty lights. Sadly, these mechanical failures can result in accidents.
Inadequate training: Some delivery companies may not provide their drivers with sufficient training. This can lead to errors in handling large trucks and navigating challenging road conditions, which can be quite concerning.
Traffic congestion: Delivery routes often pass through congested urban areas with heavy traffic. Driving in these spaces with a large truck can be a real challenge and, regrettably, increases the risk of accidents.
Weather conditions: We all know how unpredictable weather can be. Adverse conditions like rain, snow, and ice can make road surfaces slippery and reduce visibility, making it more difficult for delivery truck drivers to control their vehicles safely.
Overloaded or improperly loaded cargo: In some cases, cargo may be overloaded or improperly secured, affecting the balance and handling of the vehicle. This can lead to accidents, rollovers, or cargo spills.
Running red lights and stop signs: In the rush to complete deliveries, some drivers may engage in dangerous behaviors like running red lights and stop signs. Unfortunately, this increases the risk of collisions at intersections.
Your Fight Is Our Fight
How Long Do You Have To File a Personal Injury Claim in Michigan?
In Michigan, you have three years from the delivery truck accident date to file a claim. Our delivery truck accident lawyers in Michigan can help you determine if you could be eligible for an extension.
We can also help you gather the evidence and complete the paperwork properly to get your claim to the insurance company faster. The sooner you file your claim, the better your chances of winning your case and getting the maximum compensation. But remember that if you try to file past the deadline, you won't be eligible for compensation.
We know how to get our clients the results they need in the toughest legal arenas.
How Do You Prove Liability in a Delivery Truck Accident in Michigan?
To be eligible to recover damages, you first must prove that the delivery truck driver and the other parties are responsible for your injuries. A delivery truck accident attorney in Michigan at White Law PLLC can help you prove that the four elements of negligence are present in your case:
Duty of Care
The first element you need to establish is that the at-fault party owed a duty of care to others on the road, including you and other drivers, pedestrians, and passengers. In delivery truck accidents, this duty of care is based on the expectation that all drivers, including delivery truck operators, must operate their vehicles responsibly and safely.
Delivery truck drivers must adhere to traffic laws, follow safe driving practices, and ensure their vehicles' safe operation. This includes obeying speed limits, traffic signals, and signs, maintaining proper following distances, and staying attentive to road conditions.
Breach of Duty
The second element you must meet is demonstrating that the at-fault party breached their duty of care. In delivery truck accidents, this breach often occurs when the driver engages in actions that deviate from safe and responsible driving practices.
As the injured party seeking to establish negligence, you should be aware that a breach of duty can take various forms, such as speeding, which endangers both you and others on the road, distracted driving, which diverts the driver's attention from the task at hand, or failing to maintain the delivery truck, leading to mechanical issues properly.
Collecting evidence of this breach of duty can help to prove negligence by the delivery truck driver or company. This evidence can include witness statements, accident reconstruction reports, and documentation of traffic violations.
Causation
The third element you need to address is demonstrating that the breach of duty directly caused or significantly contributed to the occurrence of the accident. It requires a clear connection between the at-fault party's actions and the resulting collision.
As the injured party seeking to establish causation, you should understand that in delivery truck accidents, causation can often be established by demonstrating that the driver's negligent actions directly led to the collision. This can include providing evidence that the driver's excessive speed, distracted driving, or failure to maintain the vehicle directly contributed to the accident.
It's important to be aware that establishing causation can be complex and may involve accident reconstruction and a thorough examination of the accident scene and evidence.
Damages
The fourth and final element you must prove is that the accident resulted in damages or injuries to you. Damages encompass various losses, including medical expenses, property damage, lost income, pain and suffering, and emotional distress.
As the injured party, you must document and quantify these damages to establish the extent of harm caused by the accident. This can involve gathering and presenting medical records, repair bills, pay stubs, and expert testimony to demonstrate the full scope of damages from the accident.
We know how to get our clients the results they need in the toughest legal arenas.
Damages You Could Be Eligible for After a Delivery Truck Accident
Our delivery truck accident attorneys in Michigan can help you recover losses due to someone else's negligence. We can help you recover damages such as:
Loss of income

Medical costs

Loss of consortium

Loss of companionship

Pain and suffering

Loss of quality of life
You will always work directly with your attorney throughout your case.
Contact Us to Work With Our Delivery Truck Accident Lawyer in Michigan
At White Law PLLC, we have over 20 years of combined experience holding liable parties accountable for their actions. Our delivery truck accident lawyer in Michigan can help you build a strong case today.
Contact us to schedule your free consultation today.
We're Experienced. We Care.
We Exceed Client Expectations.