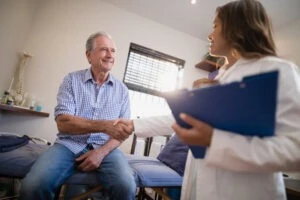 Getting into a semi-truck accident can be traumatizing, and your injuries can strain your financial situation. But our semi-truck accident lawyer in Lansing, MI, can help you build a strong case.
At White Law PLLC, we're dedicated to holding the negligent parties accountable and recovering your losses. Our Lansing, MI, personal injury lawyers can help you after you've been in a semi-truck accident. We can provide you with compassionate legal guidance.
What Caused Your Semi-Truck Accident?
Semi-trucks' heavy weight and large size already contribute to thousands of accidents. But other factors could cause semi-truck collisions. Our team of Lansing semi-truck accident lawyers could help you if your accident was a result of the following:
Distracted driving: Distractions inside the truck or external factors can lead to momentary lapses in attention.
Mechanical issues: Poorly maintained brakes, tires, or steering systems can cause accidents.
Driver fatigue: Long hours on the road without adequate rest can result in slower reaction times and impaired judgment.
Speeding: Traveling above the speed limit or too fast for road conditions reduces a truck's ability to stop quickly.
Aggressive driving: Tailgating, frequent lane changes, and reckless maneuvers increase accident risks.
Driving under the influence: Alcohol, drugs, or prescription medications can impair a driver's abilities.
There are several other causes that your accident could've resulted from. A truck accident lawyer in Lansing, MI, from our law firm can help you determine the cause of your accident in a free case evaluation. In addition, we can tell you what damages you could qualify to receive.
Your Fight Is Our Fight
How Does a Semi-Truck Accident Attorney in Lansing, MI, Prove Negligence?
To prove negligence in a semi-truck accident, our attorneys must prove that the four elements are present in your case. These elements include:
Duty of Care
A duty of care is a responsibility that all drivers have when they're driving on the road. Drivers must act with care to avoid harming anyone else on the road.
The first step is proving that the person who hit you owed you a duty of care. And since they were on the road driving, they owe you a duty of care.
Breach of Duty
The second element we must prove for you to be eligible for compensation is showing that the liable party broke the duty of care. To break the duty of care, the person must have acted negligently or failed to act to prevent her from suffering harm.
For example, if a truck driver was texting and driving right before the crash, they broke their duty of care. This is because a reasonable person would not text and drive.
Causation
The third element our attorneys must prove is that the party's breach of duty of care directly results from your injury and accident. To do this, our team will gather evidence and connect it to your injuries.
We can use a wide range of evidence to prove the causation. We could use evidence such as:
Eyewitness accounts: Statements from individuals who witnessed the accident can provide objective perspectives.
Accident scene photos: Photographs of the accident scene, vehicle positions, road conditions, and skid marks can illustrate factors contributing to the accident.
Police report: Official reports filed by law enforcement officers can provide unbiased documentation of the accident and initial findings.
Surveillance footage: Video footage from nearby cameras can offer visual evidence of the accident's sequence and circumstances.
Black box data: Many trucks have Electronic Control Module (ECM) data that can provide insight into vehicle speed, braking, and other factors.
Damages
The final element our team will prove is that you've suffered financial and non-financial damages due to the accident. We can prove this by documenting your losses and their impact on your life.
If a semi-truck accident attorney in Lansing, MI, can prove that all of these elements are present in your case, you may be eligible for compensation. Our attorneys are ready to work with you to prove the liable party's fault.
We know how to get our clients the results they need in the toughest legal arenas.
What Is Michigan's Statute of Limitations for Semi-Truck Accidents?
When you get into a semi-truck accident in Michigan, according to MCL § 600.5805, you only have three years from the accident date to file your claim. We recommend that you file your claim as soon as possible.
The faster you file your truck accident claim, the faster the process will go. And when the insurance company receives your claim, they'll be able to connect it to your accident easier, giving them less of a reason to deny your claim.
Doing this could also help you recover more compensation for your losses. Sometimes there are different details of cases that can alter the deadline, but our team can help determine exactly how long you have to file.
We know how to get our clients the results they need in the toughest legal arenas.
What Damages Can You Collect After a Semi-Truck Accident?
After being involved in a semi-truck accident, you may be entitled to pursue various types of damages to compensate for the incident's physical, emotional, and financial impact. These damages can be classified into economic and non-economic categories, each encompassing different aspects of your losses.
Understanding the range of damages available can help you comprehensively evaluate the compensation you deserve and seek proper legal representation to advocate for your rights effectively. Our team of Lansing personal injury attorneys can help you recover damages such as:
Loss of consortium

Wrongful death damages

Medical expenses

Loss of income

Loss of companionship

Loss of quality of life

Public transportation for doctor appointments
You will always work directly with your attorney throughout your case.
Why Choose White Law PLLC to Represent You in Your Semi-Truck Accident Case?
Our team has years of experience helping our clients recover damages from truck accidents. We have the experience necessary to help you through the legal process and get the compensation you qualify for.
We've helped more than 30,000 clients get the compensation they need, and as a result, we've recovered over $1 billion at our firm. We not only have the experience, but we also have the passion to win your case.
Our team of semi-truck accident lawyers knows how devastating it can be to get in a truck accident and suffer losses. Our community-oriented approach drives us to help you, no matter how big or small your losses are.
Contact a Lansing, MI, Semi-Truck Accident Attorney Today
At White Law PLLC, we care about getting you the compensation you need. Our semi-truck accident lawyers are ready to guide you through the legal process and pursue justice for you.
Contact us today for a free consultation.
We're Experienced. We Care.
We Exceed Client Expectations.