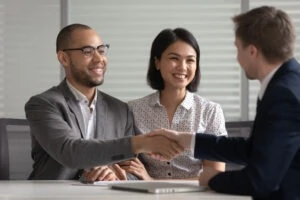 Insurance fraud can be difficult to detect, but the legal ramifications for those caught committing this crime are serious. At White Law PLLC, we know how to build a strong defense for clients in this situation and work tirelessly to achieve the best possible outcome.
If you are facing insurance fraud charges in Michigan, you need a lawyer with experience in this practice area to help you navigate the legal system. One of our Michigan insurance fraud lawyers could help you fight these allegations and clear your name.
Contact us now for a free case evaluation, or keep reading to find out how a Michigan criminal defense attorney can help.
What Is Considered Insurance Fraud in Michigan?
When a person makes a false statement to benefit financially from insurance coverage, Michigan law views that as insurance fraud. Specific fraud guidelines can vary by jurisdiction. However, those responsible for fraud may be hospitals, physicians, corporations, insurance adjusters, insurance agents, or consumers.
Example scenarios include:
Claims that exaggerate a loss's severity or are based on fictitious events.

Purposely damaging property or staging accidents to create false insurance claims.

Providing false information or intentionally leaving something off on an insurance application to reduce the cost of the policy or to obtain coverage that would otherwise be denied.

Fraudulently representing factors that affect insurance premiums, such as the value, location, or use of insured property, to reduce insurance costs.

Examples of medical insurance fraud include invoicing for services not provided, falsifying medical records, or requesting payment for unnecessary treatments.
Defending yourself against fraud charges can be difficult without a deep understanding of the relevant Michigan statutes, rules, and regulations. A Michigan insurance fraud attorney from our law firm will protect your rights throughout the investigation and all proceedings.
Your Fight Is Our Fight
The Investigation Process
Insurance fraud investigations attempt to uncover fraudulent activities in various ways, and each insurance company's initial investigative process is different.
However, the investigation against you may follow a process similar to the following:
Initial report:

The case begins when someone reports alleged fraud to law enforcement. The accusation that started the investigation is included in that report.

Evidence collection:

Investigators typically perform forensic analysis, interview witnesses, review bank records, obtain

electronic evidence

, and take other actions to establish fraud.

Suspect identification:

Detectives use the evidence they collect to identify suspected fraud perpetrators. This process may include examining financial transactions, tracking down money, and linking individuals to the alleged fraudulent activity.

Statements and interviews:

Investigators may question suspects, witnesses, and anyone else with information relevant to the case. These interviews can provide more proof, shed light on specifics, and include testimony that can be used against the suspect.

Case building:

As the investigation continues, the evidence will be arranged in a way that attempts to establish criminal intent and support the required components to prove fraud.

Examination of evidence: The

district attorney's office or other governing body usually examines the case once the investigation is complete. This step involves evaluating the amount and quality of evidence, assessing the possibility of a conviction, and deciding whether to press charges.

Bringing criminal charges:

The prosecuting authorities have every right to file charges against the fraud suspects if they believe they have sufficient evidence. This action starts the formal litigation process and lays the foundation for a court case.
Each act of insurance fraud is different, so the chances of beating the charges in your case will depend on the extent of the fraud.
We know how to get our clients the results they need in the toughest legal arenas.
Evidence the Prosecution May Use in Your Case
Prosecutors and investigators typically use a wide range of evidence to show insurance fraud. The proof needed will vary depending on the nature of the alleged fraud, the jurisdiction, and the applicable laws.
While the specific requirements may vary, the following categories of evidence are often admissible:
Insurance policy documents

Surveillance footage

Financial records

Expert testimony

Witness statements

Digital evidence

Phone records

Evidence obtained during sting operations
Investigators may already be compiling evidence against you. A criminal defense attorney from White Law LLC can help protect your rights and work to get the charges reduced or dropped.
We understand that you may be going through a difficult situation and we are ready to help however we can.
Penalties for Insurance Fraud
Insurance fraud often results in criminal charges because it involves intentional deceit for financial gain. Varying penalties may be imposed depending on the facts of the case and the jurisdiction.
In many cases, insurance fraud can result in hefty fines, jail time, or both. You could even be prosecuted at the federal level in some situations. In addition, you may be required to make reparation payments to the financially injured insurance company.
You will always work directly with your attorney throughout your case.
How a Criminal Defense Attorney Can Help Your Case
When building a defense in an insurance fraud case, your attorney can help by identifying the applicable insurance regulations, analyzing evidence, interviewing witnesses, and finding weaknesses in the prosecution's case.
The prosecution in an insurance fraud case must prove beyond a reasonable doubt that you knowingly committed fraud. A criminal defense attorney who regularly handles these cases will know how to identify flaws in the investigation, negotiate a plea deal, and defend you in court if your case goes to trial.
Contact a Michigan Insurance Fraud Lawyer
If you are facing insurance fraud charges, it is advisable to talk to an attorney as soon as possible. The team at White Law PLLC can provide you with comprehensive representation throughout the investigation and litigation process. We understand how serious your situation is, and if we handle your case, we will do everything in our power to protect your rights and interests.
Our Michigan insurance fraud lawyers are highly experienced and knowledgeable in the area of fraud allegations. We will work with you to create an effective defense strategy and provide the best possible chance of a favorable outcome in your case.
Contact us today to get started with a free consultation.
We're Experienced. We Care.
We Exceed Client Expectations.