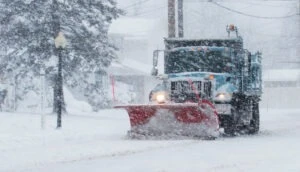 It's all but impossible to escape lake-effect snow in Michigan. As such, the state has instituted snowy day policies designed to help residents more safely contend with the state's onslaught of snow. As a Michigan resident, you're expected to abide by local and state-wide ordinances regarding snow removal.
What are these ordinances, though, and how do they help protect you and your neighbors from harm? Can you take action against someone who fails to uphold Michigan's snow removal laws and then causes an accident? Let's dive into the specifics of Michigan's snow removal laws and learn more about the rights they entitle you to.
Michigan's State-Wide Snow Removal Laws
Michigan's Vehicle Code section 257.677a notes that residents are prohibited from shoveling snow from their sidewalks, cars, or alternative forms of property into the road. This means that residents must distribute excess snow onto their own property and not a nearby road or shoulder.
Doing so can obscure the vision of oncoming drivers and otherwise make the road more dangerous to operate on. With that in mind, if you notice that your latest snow pile might obstruct someone's view on the road, it's likely in your best interest to redistribute that snow elsewhere.
You Must Clean the Snow Off of Your Car Before Driving
Driving with an obscured windshield is illegal in Michigan. You're expected to clear the snow off your front and rear windshields before hitting the road. It's also recommended that you remove the snow from the roof of your car to ensure other drivers' visibility and safety on the road.
Should you be caught driving with a snow-obscured windshield, law enforcement may issue you a traffic ticket or otherwise fine you for roadway misconduct.
If someone with a snow-obscured windshield causes an accident, that person can be held liable for their victims' losses in civil court. Should you find yourself contending with the aftermath of one such accident, you can discuss your right to legal action with a personal injury attorney in Michigan.
Your Fight Is Our Fight
Michigan's Local Snow Removal Laws
Each county or city in Michigan may additionally have ordinances dictating how locals are meant to contend with Michigan's annual snowfall. Even your HOA may have safety standards in place dictating where you can deposit snow and how soon you're expected to have it removed from your property.
With that in mind, be sure to check in with your local politicians this winter. Most cities and counties will share rulings regarding snow management on their websites. If you're unsure what you're required to do with your snow and find yourself facing unwarranted fines, you can contact an attorney for guidance.
Failing to Remove Snow Can Have Consequences
Failing to remove the snow from your property does not constitute a criminal offense. That said, the state of Michigan enacts consequences against parties who do not remove snow from their premises within 48 hours of a snowfall (provided that doing so is reasonable, considering the ongoing weather and/or the homeowner's physical condition).
For example, cities like Grand Rapids will remove a person's snow if a homeowner hasn't made an effort to eliminate the excess snowfall within 48 hours of the initial fall. However, these services do not come for free; after that 48-hour grace period, you cannot opt out of them.
If you fail to remove the snow from your property, then you may face fines and administrative fees from the city where you live.
Failing to Remove Snow Can See Certain Parties Held Liable in Civil Lawsuits
If someone on the road or in your neighborhood fails to abide by Michigan's snow removal laws, they can put you and your loved ones in immediate danger. Should these parties be found responsible for an accident, that accident's victims have the right to bring that party forward in civil court.
More specifically, failing to remove snow in accordance with Michigan law can make a person liable for personal injury accidents stemming from that negligence. In the eyes of a civil court, failure to remove snow properly can constitute a violated duty of care.
The good news is that if you're the victim of a snow-related accident, you can work with a Michigan personal injury attorney to demand damages to help contend with the cost of your recovery.
We know how to get our clients the results they need in the toughest legal arenas.
Tips and Tricks for Dealing With Michigan Snow
When winter comes around and leaves you contending with excessive snow, don't worry. There are ways to effectively deal with snow on your sidewalks and cars without exhausting yourself or violating Michigan's snow removal laws. When the worst of the snow settles in, you can:
Drive slowly on the road

Remain observant

Keep an eye on the weather and avoid driving in snow squalls

Work with neighbors or family members to shovel the snow

Keep

kitty litter

or ice salt in your house and car
If you find yourself involved in a snowy accident with another vehicle, you can turn to the experienced professionals in your area for guidance. Our personal injury attorneys throughout Michigan can help you assess the nature of your accident and take action if the circumstances allow for it.
You will always work directly with your attorney throughout your case.
You Can Bring Your Snow Accident Concerns to Our Team
Michigan's snow removal policies are designed to make life in the Great Lake State safer. That said, accidents still happen. If you get into an accident with someone you think may be violating the state's snow removal policies, you can bring your losses to the attention of a civil judge. Our personal injury attorneys throughout Michigan can help you compile your initial complaint.
For more information about your relationship to Michigan's snow removal policies or our legal services, reach out to the White Law PLLC team today. We're available to discuss snowy weather accidents over the phone or through our online contact form. You can reach out to our team today.
We're Experienced. We Care.
We Exceed Client Expectations.