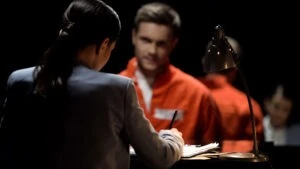 Do you know what to do when prosecutors, private investigators, or police try to question you about an active criminal case? Are you knowledgeable of what your rights are in a criminal investigation or what legal options you have after being detained for a crime? Don't panic; the experts at White Law PLLC do, and we're here to make your fight our fight.
Our criminal defense attorney in Bay City, MI, can assist you with exploring your legal options, getting guidance through the criminal justice system, and having someone on your side fighting for what's best for you. If you are interested in letting an expert defense attorney handle your legal issues, we offer a free consultation to evaluate a successful approach to your case.
Three Critical Steps to Surviving a Police Interrogation
When police stop to question a person, some people react by losing their composure and either oversharing or overreacting. People who successfully survive a police interrogation take three actionable steps:
Stay calm

Do not fabricate information (this can increase your charge)

Don't give up your constitutional rights in order to appear cooperative
A variety of tactics are taught to police officers on how to get people to talk with them. Your Michigan defense attorney will be able to identify these tactics and help you avoid them.
Your Fight Is Our Fight
Your Rights in a Criminal Investigation
Since you need prompt legal assistance, we'll get right to it: Authorities in a criminal investigation want to convict someone, so you must be very cautious with how to respond as a person of interest in a criminal case. Regardless of whether you are guilty or not, you still have rights.
To defend yourself, you should make use of these crucial rights if the police get in touch with you regarding an active criminal investigation:
You have the right to leave:

In accordance with the

Fifth Amendment of the United States Constitution

, you are free to depart if you are not being detained and have not been read your Miranda rights. You can simply ask the police if you are being detained, and if told no, leave and find a Bay City criminal defense lawyer near you for legal guidance.

You have a right to privacy:

The

Fourth Amendment

guarantees you the right to be free from arbitrary searches and seizures of your person and property. You have the right to refuse to let the police search your home, automobile, property, or your body unless they have a search warrant.

You have the right to keep quiet:

When the police are questioning you, let them know that you want your lawyer present. This prevents them from coercing you into saying something incriminating.

You have the right to legal representation and will be appointed one if you can't afford one.

Your right to counsel is guaranteed by the

Constitution's Sixth Amendment

. You should exercise your privilege and hire a lawyer who might be able to help you escape criminal charges.
We're not just lawyers. We're passionate advocates who will ensure that your voice is heard and your rights are protected.
Criminal Cases that We Manage
We have over 60 years of combined legal experience defending clients in various criminal cases in Bay City, MI, and the surrounding cities. When choosing a criminal defense attorney to represent you, go with a team that has a proven track record and a wealth of experience handling cases just like yours. We fight for the rights of our clients criminally charged with:
Misdemeanors

Felonies

Gun charges

Theft

Assault and domestic violence

Controlled substances charges
If you or someone that you know needs a good Bay City criminal defense attorney we will provide professional legal support in each phase of your case.
We understand that you may be going through a difficult situation and we are ready to help however we can.
Timeline of the Criminal Case Process
There is no solid answer to how long it could take to resolve a criminal case. Our criminal justice system performs like a funnel, in which many cases enter, but an entire process involving rules and decision-making takes place before a person is cleared or serves their sentence. The life cycle of a criminal case involves:
Investigation

Arrest

Prosecution

Indictment

Arraignment

Detention or bail

Plea deal

Trial

Sentencing

Appeals

Punishment or rehabilitation
While it is impossible to predict how long each phase can last pertaining to your case, our attorneys provide constant updates so that you are well-informed throughout the entire process.
You will always work directly with your attorney throughout your case.
When Is the Best Time to Contact a Criminal Defense Attorney?
Contact White Law PLLC immediately if you think that you are under suspicion of a crime in Bay City, MI. Our skilled criminal defense lawyers in Bay City can help you decide what to do next. Our case evaluation is free of charge, and if you have been detained, we can come to you. Invest in your future by protecting your freedom with one of the top-rated criminal defense firms in Michigan.
We're Experienced. We Care.
We Exceed Client Expectations.