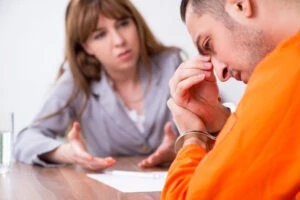 Facing a criminal charge can be overwhelming. While a conviction for a serious felony can mean years in prison, even a minor misdemeanor can present significant complications for your life. Of course, getting arrested does not necessarily mean you will be convicted. The prosecution must establish your guilt beyond a reasonable doubt.
Proving guilt at this level can be a challenge, especially if you have an experienced criminal defense attorney in Cadillac, MI, on your side. At White Law PLLC, we have a long history of helping our clients beat the charges against them. Our team of criminal defense lawyers can build a formidable defense and argue your case in court.
Why Hire a Criminal Defense Attorney in Cadillac?
Anyone charged with a crime in the United States has the right to legal counsel. This is one of the pillars upon which our legal system is based. Whether you are innocent or guilty, you deserve the best possible defense. Both sides having the ability to build the strongest case helps to ensure that justice is served.
When you hire an experienced attorney, you will be giving yourself the best chance of winning your case. Attempting to represent yourself is a gamble with your future that it is best to avoid. You should remember that even lawyers hire other lawyers to represent them when faced with criminal charges.
Your Fight Is Our Fight
Steps a Criminal Defense Lawyer Will Take on Your Behalf
After hiring a criminal defense lawyer in Cadillac, MI, there are several steps they will take on your behalf. Some of the actions you can expect from your attorney include:
Launching their own investigation into the crime for which you were arrested
Helping get you out on bail
Challenging evidence produced by the prosecution
Negotiating with the prosecutor to get the charges against you dropped or reduced
Building a strong defense on your behalf
Arguing your case in court
We know how to get our clients the results they need in the toughest legal arenas.
Steps Taken After a Crime Has Been Committed
After a crime, there are a variety of steps that must be taken before anyone can be convicted. If you have been arrested, knowing the process that must be followed can help give you back a small portion of the control you have lost. You can ensure you are prepared for what is to come and that you and your lawyer are on the same page.
The steps that are followed after a crime include:
Investigation
Arrest
Filing Charges
Discovery
Plea bargaining
Preliminary hearing
Pre-trial motions
Trial
Post-trial motions
Your criminal defense attorney can work to ensure you thoroughly understand what to expect as your case moves forward through the legal system.
We understand that you may be going through a difficult situation and we are ready to help however we can.
What to Do After You Have Been Arrested
After an arrest, it is easy to commit mistakes that can make things more difficult for you. The best way to protect yourself following an arrest is by:
Being polite
Keeping quiet
Consulting a lawyer
Being Polite
Arguing or fighting with police during an arrest can make it more difficult to beat the charges against you. In fact, this kind of behavior could instead result in an additional charge for resisting arrest.
Keeping Quiet
One of the rights that police officers are required to inform you of during an arrest is your right to remain silent. It is critical that you exercise this right. Whether you are innocent or guilty of the crime with which you are being charged, the things you say could be turned against you.
Consulting a Lawyer
Retaining legal counsel is essential after an arrest. While you will be assigned a public defender if you can not afford an attorney, these lawyers are overworked and typically try to get through their cases as quickly as possible with a plea deal.
When you hire an experienced criminal defense lawyer, they will work diligently to ensure you have the best defense possible. Even if a plea deal is your best option, one of our attorneys will likely be able to secure much more favorable terms than you would get with a public defender.
You will always work directly with your attorney throughout your case.
Getting a Conviction Expunged From Your Record
After being convicted of a crime in Michigan, you may have the option of getting the conviction expunged from your record. Getting a conviction expunged can have significant including helping you with:
Getting a job
Finding housing
Taking out a loan
Avoiding social stigma
Having a conviction on your record will pop up in background checks routinely performed by employers, rental agencies, landlords, and lenders. While the person running the background check can decide whether or not they will let your criminal history affect their decision regarding your future, having a conviction on your record certainly isn't going to help your cause.
Additionally, with the ease of searching for a person's criminal history on the internet, acquaintances may become aware of your conviction. This awareness could have a negative impact on your social life.
Getting a conviction expunged will erase the offense from your legal history. An experienced lawyer can help you determine whether you are able to apply to have your conviction expunged. If eligible, your attorney can walk you through the necessary steps to get a clean slate.
Hiring a Cadillac Criminal Defense Attorney
If you have been arrested, your best chance of beating the charges against you is hiring an experienced criminal defense lawyer. The Cadillac criminal defense attorneys at White Law PLLC have a long history of helping our clients avoid convictions. When the evidence is overwhelming, we can help negotiate a plea deal that results in minimal consequences.
Reach out to us today by phone or through our online contact form and schedule your free case review with a member of our legal team.
We're Experienced. We Care.
We Exceed Client Expectations.