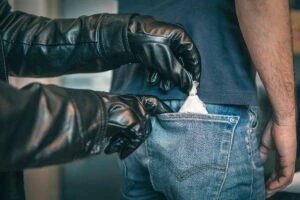 If you or someone you know is facing a drug possession charge in Lansing, MI, you might feel frustrated, angry, afraid, or all of these emotions. This is understandable since criminal allegations can have severe consequences, including fines, probation, and imprisonment.
At White Law PLLC, we understand what's at stake when you're faced with a drug charge. Our Lansing drug possession lawyers are well-versed in Michigan law and have a proven track record of providing aggressive criminal defense representation for individuals facing drug possession allegations in Lansing.
Contact us today to schedule your initial consultation with a Lansing criminal defense lawyer. We'll evaluate your case for free and start crafting your personalized defense strategy.
The Consequences of a Drug Possession Conviction
According to Michigan Compiled Laws § 333.7403, "possession" refers to an individual intentionally or knowingly possessing a controlled substance.
If you're convicted of drug possession, prison time and a hefty fine are just the beginning of the consequences you could suffer. In addition to your sentence, a criminal conviction could cause the following problems in your personal and professional life:
Damage to family and romantic relationships

Lost custody of your children

Loss of your driver's license

Job loss or difficulty finding a new one

Mental health issues
We can help you avoid some or all of these consequences.
Your Fight Is Our Fight
Why Choose Our Law Firm for Your Lansing Drug Possession Case
When you choose our drug possession attorneys in Lansing, MI, you secure qualified legal counsel.
Here are just a few of the benefits of working with us:
Individualized defense strategy:

We develop a personalized strategy for every client we represent. Finding what works best for you and your unique situation is paramount to our success.

Information security:

As a

cloud-based law firm

, we keep your information confidential and secure using the latest technology; you don't have to worry about someone outside our legal team finding private information about you or your case.

Extensive experience:

Our team has years of experience representing cases like yours. Our past successes allow us to apply proven strategies and customize them to your situation. We evaluate your case, pore over the evidence, and work tirelessly to get your charges reduced or dropped.
We know how to get our clients the results they need in the toughest legal arenas.
How We Could Defend You Against Drug Possession Charges
Our dedicated team of criminal defense lawyers provides a robust defense against drug possession charges. We employ a multifaceted approach tailored to the unique circumstances of each case.
Our law firm can help defend you against drug possession charges in a variety of ways, including the following:
Blocking Evidence
If we believe the prosecution gathered evidence illegally, we can file a motion to block that evidence. If the judge approves our motion, the other side won't be able to use it against you, which could be the key to winning your case.
Reasons a defense attorney may file a motion to block evidence include the following:
The evidence was obtained illegally or unlawfully.

The evidence is irrelevant.

The evidence is unreliable.
We aim to get your charges dismissed so they won't appear on your record. If we can't do that, we will work to get the charges reduced.
Plea Bargain
Your Lansing drug possession attorney could request a plea bargain to reduce your sentence. You must willingly plead guilty to a different charge to get the deal.
A plea deal will prevent you from having to serve the maximum sentence. But if you're innocent, the deal means pleading guilty to a crime you did not commit. In this situation, having an experienced attorney review the plea deal before you agree to it is crucial.
Trial
Our drug possession lawyers in Lansing, MI, are fully prepared to defend you before a judge if a trial is our best chance of getting the charges dismissed or reduced.
Our defense strategies may also involve the following:
Scrutinizing the legality of the search and seizure

Challenging the admissibility of evidence

Exploring potential constitutional violations

Identifying weaknesses in the prosecution's case

Presenting compelling arguments in your favor
With our extensive legal knowledge, negotiation skills, and courtroom experience, we will vigorously defend your rights and fight to mitigate the consequences of drug possession charges.
We know how to get our clients the results they need in the toughest legal arenas.
Methamphetamine Possession Charge in Lansing
Possession of methamphetamine, or meth, is illegal in Michigan, and those convicted of having this substance in their possession face serious consequences. Possession can occur in several forms, as the drug can be smoked, snorted, injected, or swallowed.
It is widely known that meth is a dangerous drug that can quickly lead to physical and mental dependence. Therefore, those found with any amount of methamphetamine are subject to state penalties that could potentially include incarceration and fines.
If you're facing meth possession or any drug charge in Michigan, it is essential to contact an experienced criminal defense lawyer immediately upon being charged or possibly under investigation.
You will always work directly with your attorney throughout your case.
Other Substances Leading to Possession Charges
Our criminal defense lawyers can defend you against a wide range of drug possession charges you may have received. We have helped numerous clients get their charges dropped or reduced for controlled substances, including the following:
Marijuana

Synthetic opioids

Heroin

Oxycodone (OxyContin)

Percocet

Fentanyl

Cocaine

Ecstasy

Performance enhancers
While numerous substances are prohibited in Michigan, the federal government classifies them into drug schedules based on how dangerous and addictive they are. These categories are based on federal classifications and referenced as part of Michigan's Public Health Code.
Types of Drug Possession Charges
Simple possession of drugs is when a person is found to have a controlled substance in their physical possession for personal use. This may include carrying a drug on their person, such as within their clothing or in a bag.
Simple possession typically results in less severe penalties than other possession charges. For this reason, many individuals attempt to argue that the substances were only for personal consumption by showing a lack of intent or profit from the sale or distribution of a drug.
Constructive possession of drugs requires an individual to be knowledgeable about the presence and control of a controlled substance, even if it is not physically on the person.
Constructive possession charges carry more serious consequences than simple possession because the control over the drugs shows intent to traffic or sell them instead of keeping them for personal use. Again, an attorney from our Lansing office can help you understand the penalties you could face for your particular offense.
Our Lansing Drug Possession Lawyers Are Ready To Help.
If you are facing drug possession charges in Lansing, Michigan, it is crucial to act swiftly and seek legal counsel from a trusted criminal defense lawyer. The consequences of a conviction can affect your personal or professional life for years to come.
During your initial consultation, a Lansing drug possession attorney will evaluate the details of your case, explain your legal rights and options, and provide you with the guidance you need to make informed decisions. We are committed to achieving the best possible outcome in your drug possession case.
Contact White Law PLLC today to schedule a free case evaluation.
We're Experienced. We Care.
We Exceed Client Expectations.