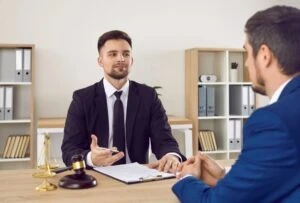 If you are facing criminal charges and are unsure what happens during a criminal investigation or if hiring a Sterling Heights criminal defense attorney in Michigan is necessary, it is in your best interest to utilize our free consultation to explore your legal options.
To give you the optimal possibility of success, the defense lawyers at White Law PLLC employ experts to provide testimonies that strengthen your case and rely heavily on the relationships they've fostered with those in the criminal justice system to get you a fair plea, if necessary.
Entrusting your freedom to an expert criminal defense lawyer in Sterling Heights, MI, is the best thing you could do to defend yourself. Learn how our legal firm can assist your case and what to expect next after being accused of a crime in Michigan.
Legal Counsel for the Criminally Charged
Facing criminal charges is a life-altering experience that requires trust, patience, and perseverance to win. Whether you are innocent or guilty, our Michigan criminal defense lawyers are dedicated to protecting your rights in the following ways.
Successfully Fight Your DUI Charge
In addition to thousands of dollars in court fees and fines, a drunk driving conviction can have both short and long-term effects on your ability to make a living.
To lessen the impact on your future, you must fight the drunk driving charges. Our criminal defense law team has the expertise to have DUI charges reduced or dropped.
Reduce Your Weapons Charge
Concealed weapon carrying on its own is a felony punishable by up to five years in prison and a $2,500 fine. Our Michigan criminal defense lawyers have a high level of legal expertise and courtroom knowledge to handle your case.
For such allegations to be reduced or disproved, it is essential to have a defense attorney prepared for all exceptions and legal defenses.
Expunge Your Domestic Violence Charge
Michigan takes abuse charges very seriously. Domestic abuse cases can affect your employment, parental rights in some instances, and any professional licensing you've attained. The consequences of such a grave charge can lead to hardships and should be handled by a legal firm that has experience getting domestic violence charges expunged.
Our firm represents a myriad of criminal defense cases and is here to guide you toward the most favorable outcome possible.
Your Fight Is Our Fight
Five Things to Do After Being Accused of a Crime
Remain calm and make use of your

Miranda rights

if the police attempt to question you. It is not uncommon for law enforcement to lie to gain leverage.

Do not give up any evidence or submit anything such as emails, documents, pictures, etc., that can be used against you.

Obtain legal counsel before or during your interrogation with the police. The sooner that you can retain legal counsel, the more protected you will be from unfair practices.

Stay private and keep all case-related matters off of social media.

Be honest with your

criminal defense attorneys

at all times. There may be circumstances that you are embarrassed to discuss, but your criminal defense lawyer's job is to protect you from every angle. This is only possible if they know what they are up against at all times.
When the criminal justice system treats you as if you are guilty, it is the role of your Sterling Heights, MI, criminal defense lawyer to help you navigate this process, protected and prepared for what lies ahead.
We know how to get our clients the results they need in the toughest legal arenas.
Misdemeanor vs. Felony Charges in Michigan
Under Michigan law, the main distinction between a misdemeanor and a felony offense is the potential length of incarceration. For a misdemeanor conviction, the maximum sentence allowed by law is one year in prison.
Classifications for misdemeanors include 93-day, one-year, and high-court offenses. In contrast, felony classifications go from A to H. Class A sentences can be as severe as life in prison, while class H sentences may not even include any jail time.
We understand that you may be going through a difficult situation and we are ready to help however we can.
Criminal Defense Lawyers in Michigan With a Track Record of Success
A good criminal defense lawyer is familiar with Michigan law and all of its intricacies. Our main objective is to make sure that you understand the legal procedure, effectively collaborate with law enforcement, and remain protected throughout the course of the case.
Our Sterling Heights criminal defense attorneys are dedicated advocates that keep your best interests in mind every step of the way. We will assist you at any stage of your case, including but not limited to interrogations, bail proceedings, plea negotiations, trials, and more. Our criminal defense firm has successfully produced the following case results for clients:
Reduced a criminal sexual conduct charge by negotiating a plea of a non-sexual misdemeanor

Gotten a felony for murder, and home invasion charge dismissed after the end of the second trial

After performing a preliminary investigation, we were able to have a client's weapon charges for carrying a concealed weapon and assault with a dangerous weapon fully dismissed.

Helped a client with a felony for assault by strangulation charge get dismissed as part of a plea deal
The complexity of your case determines how much it will cost to represent your criminal defense case. As an illustration, a lawyer will normally bill less for a misdemeanor conviction than for a felony offense. The costs for the two types of litigation might differ significantly depending on the work required to win, but our firm will always communicate prices upfront with no hidden fees.
You will always work directly with your attorney throughout your case.
The Likelihood of Expunging Your Criminal Charges
Misdemeanors have a higher likelihood of being expunged than felonies. Such offenses can be cleared from a person's criminal record and have little bearing on future employment opportunities. For felonies, offenses like criminal sexual conduct and murder can't be expunged, but the Clean Slate Act has expanded expungement laws in Michigan for a number of offenses.
In Michigan, there is a specific procedure for expunging a criminal record. This is referred to as "Setting Aside Convictions." The procedure differs slightly between adult and juvenile offenders.
Our attorneys have extensive experience expunging criminal records for adults and juvenile offenders. We believe that people make mistakes and are passionate about helping clients get a fresh start when they are willing to change.
Contact Us for Skilled and Discreet Legal Representation
Even though you are not required by law to do so, get in touch with us right away if you want discreet but experienced legal counsel about your felony or misdemeanor charge. The Sterling Heights criminal defense lawyers with White Law PLLC are committed to winning your case.
Our Michigan criminal defense attorney upholds the evidence, develops persuasive arguments, and promotes plea deals that benefit your future. Set up a risk-free appointment with us to go over your alternatives for self-defense.
We're Experienced. We Care.
We Exceed Client Expectations.