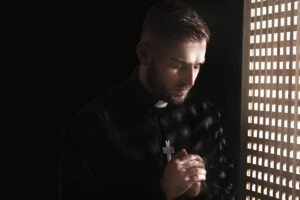 According to some religious doctrines, priests and parties who take confession are morally prohibited from sharing what they've been told with other parties, including law enforcement representatives. From a religious perspective, this privacy allows confessors to shed their shame without an audience. From a legal perspective, matters grow more complicated.
In the face of rising accusations of sexual misconduct throughout religious bodies, a priest's right to priest-penitent privilege has come into question. Let's break down priest-penitent privilege and the legal precedent addressing it to determine how clergy members might interact with the law.
What Is the History of Priests Testifying in Court?
How Can Courts Address Priest-Penitent Privilege?
Addressing Cases Involving Mandatory Reporting
How Can Parties Challenge Priest-Penitent Privilege?
Can Priest-Penitent Privilege Challenges Force a Priest to Testify?
Can a Priest Waive Priest-Penitent Privilege?
Can a Priest Testify in Court?
Can Priests Testify Against One Another?
What Is the History of Priests Testifying in Court?
The first case to bring the question of priest-penitent privilege reached American courts in 1813. This case, People v. Philips, stated that the confessions of Irish Catholic refugees could not be used as testimony in United States courts, as said confessions were given confidentially. A law upholding this position passed fifteen years after the conclusion of the case.
Today, lawmakers and attorneys alike have brought forward questions that poke holes in this original ruling. What, for example, does the law consider to be a confidential exchange of information? What is the difference, too, between a confession and a person seeking advice?
Finally, how does priest-penitent privilege come into play when the case in question addresses child abuse?
Your Fight Is Our Fight
How Can Courts Address Priest-Penitent Privilege?
Priest-penitent privilege has been a controversial topic in Michigan courts for a long time. Since Michigan enacted Act 175 of 1927, the law states that communications between clergy and members of their churches are considered privileged and confidential, and thus not available for use in criminal court.
That said, this act came into question in People v. Bragg, a Michigan case reaching courts in 2012. While the Michigan Court of Appeals upheld priest-penitent privilege, the case led to conversations about a confessor's right to privacy that continue to this day. Shortly after, People v. Prominski and People v. Richard challenged priest-penitent privilege in sexual assault cases.
Both defendants moved to suppress the testimony of pastors that might otherwise have been used against them. The Court of Appeals saw the testimony against Prominski dismissed but upheld the testimony brought against Richard, suggesting disagreements as to the enactment of the law.
Addressing Cases Involving Mandatory Reporting
To complicate matters further, Michigan establishes its clergy members as mandatory reporters of child abuse and/or neglect. As such, members of the clergy who take confession are required by law to report confessions of child abuse, neglect, and/or sexual misconduct involving a minor.
Testimony presented by mandatory reporters in cases addressing the physical, mental, emotional, sexual, and/or financial abuse of a minor serves to hold the accused party accountable for criminal behavior leveled against a child. The consequences for a conviction can range from life in prison to registry with the Michigan Sex Offender Registry.
How Can Parties Challenge Priest-Penitent Privilege?
As noted, the precedent and expectations surrounding priest-penitent privilege are complicated. To challenge priest-penitent privilege, however, interested parties can claim that:
The confession was not confidential
The confession did not serve a religious function
The defendant did not come to the clergy member for professionally-rendered services
Similarly, attorneys can cite Michigan's mandatory reporting policies as the reason that a clergy member may be expected to provide testimony in cases specifically addressing child abuse and/or sexual assault. Interested parties can read more about Michigan's mandatory reporting in a statement submitted by Rep. Paul DeWeese in 2002.
Can Priest-Penitent Privilege Challenges Force a Priest to Testify?
In most cases, challenges brought up against priest-penitent privilege require a priest to cooperate with said challenge. However, if the prosecution can prove through the presentation of evidence that an alleged confession did not fall under the protection of priest-penitent privilege, the priest in question may be forced to testify by law.
What impact that forced testimony has on the priest in the sphere of their church and its authority depends on the priest's affiliations and that church's doctrine.
We understand that you may be going through a difficult situation and we are ready to help however we can.
Can a Priest Waive Priest-Penitent Privilege?
There are some states, like Oregon, that allow a priest to waive their right to priest-penitent privilege, particularly after confessions addressing abuse or similarly heinous crimes. Michigan, however, does not appear to make this option available to its clergy members.
That said, you can discuss a Michigan priest's right to waive priest-penitent privilege with an attorney upon the initiation of your case. Our team can investigate the legislation surrounding a possible waiver and otherwise advocate for a priest's right to contribute to your case.
You will always work directly with your attorney throughout your case.
Can a Priest Testify in Court?
Outside of cases involving the use of a confession, priests are permitted to testify in court. For example, if a priest bears witness to a car accident, that priest can stand as a bystander on the stand and present their account of the accident. Priests who bear witness to violent crimes can do the same.
So long as the priest in question did not take the confession of the party accused of misconduct, priest-penitent privilege does not come into play.
Can Priests Testify Against One Another?
In this same vein, priests do have the power to testify against one another in criminal court. If a member of a priest's contingent is brought up on criminal charges and has not confessed regarding those charges to a religious peer, said peers can bring forward bystander testimony on behalf of the prosecution.
White Law PLLC Attorneys Can Elaborate on the Laws Impacting Your Case
White Law PLLC believes in pursuing justice as effectively and comprehensively as possible. If you bring us a case that requires us to address priest-penitent confidentiality, we can explore precedent throughout Michigan and determine how it may apply to your case.
For more information about how our attorneys address cases involving priest-penitent confidentiality, you can schedule a consultation with our team. Call our office or contact our team through our website, and we can get you an appointment with an experienced legal professional.
We're Experienced. We Care.
We Exceed Client Expectations.